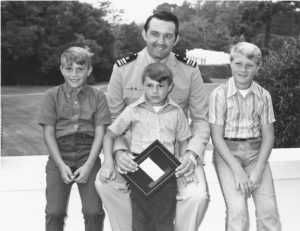 Boys & Girls Clubs of Monterey County would like to thank Michael Zabrycki for his generous gift, in loving memory of his father Edward Andrew Zabrycki, to support our mission to serve the youth of Monterey County.
Michael's Dad, Edward, came to Monterey in 1972, a single parent with sole custody to three young, sometimes challenging boys. Michael recalls being a pain at times, but noted that the community supported his dad in raising him and his siblings. Michael stated, "I don't know where my brothers and I would be today without all the unconditional love and support from our community."
Thank you, Michael, for your commitment to helping youth in Monterey County!
Photo shows brothers, Mark, Timothy and Michael, with their father.