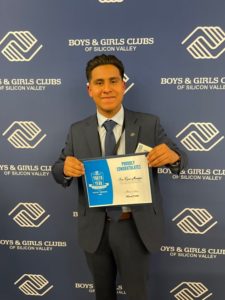 A huge congratulations to Jose Tenoch Rojas-Mendoza Jr. who is the Boys & Girls Clubs of Monterey County's Youth of the Year. Jose competed in the Northern California Youth of the Year Regional competition where he placed in the top 3 and earned the opportunity to compete in the California State Youth of the Year Celebration held in Sacramento. Jose didn't place at state, but we are proud of him for representing BGCMC.
The Boys & Girls Clubs of Monterey County offers the Youth of the Year Program to all high school members. Youth of the Year is the highest recognition a member can achieve, and Jose was one of many high school members from the Salinas and Seaside Clubhouses who went through rigorous interviews, essay writing and judging.
Jose attends Everett Alvarez High School where he is a junior. He is a dedicated and intelligent young man whose academic goals consist of attending The University of California: Santa Cruz to become a Biomedical Engineer. He carries a 4.25 GPA while being involved in various extracurricular activities including ASB Leadership, NJROTC, Track and Field, Cross Country, and a multitude of programs with other nonprofits. These non-profits include Centro Binacional Para El Desarollo Indigena Oaxaqueno, Radio Bilingue, and Pequenos Empresarios. Jose is very proud of his indigenous Mixtec-Oaxacan heritage and is a consistent advocate for cultural enrichment and appreciation. Jose hopes to continue to find success and serve as a role model to other children from underserved and underrepresented communities like himself.
In his words, "My ultimate goal is to improve the lives of my descendants, beyond the dreams of my ancestors." Jose plans to run for the Youth of the Year position again in his senior year.