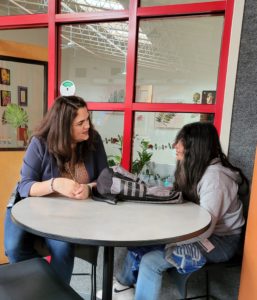 Marlene, who had just come from Hawaii, began her role with BGCMC on March 1, 2000, when she started working as a teen coordinator. Over the years Marlene expanded her constantly growing skill set by taking on new positions in areas such as: Healthy Lifestyles, Arts, Nutrition, Sports Fitness & Recreation, Program Director and now Senior Impact Director where she leads over 20 program staff members at the Seaside Clubhouse.
Marlene considers her greatest accomplishments to be the culture she has cultivated at the clubhouse and her contribution to Girl's Health in Girl's Hands program known as GHGH. Marlene's leadership style is best described as facilitative and collaborative, therefore maintaining a low turnover of well experienced team members that continually grow and have a drive to impact youth. Marlene also had a significant role introducing GHGH into the BGCMC umbrella and is now expanding into southern Monterey County. The biggest motivation for her are the kids, noting that it is a privilege to not only be a part of their world but of their growth process.
"It is a blessing to work with kids and to have them share who they are with us and for us to shine a light on opportunities and experiences they wouldn't normally have, and to now see them grow into the parents they have become."
When asked about what advice Marlene would give to members she stated, "To recognize that they can be kids within this clubhouse, they are safe, we care about them as a whole person and that they don't have to posture for us here." Marlene herself was influenced in her youth by her community theater mentor who valued Marlene's contribution to plays focusing on realistic family situations. Creating psychodrama material for plays with her mentor gave Marlene an interest in working with youth, especially teens. Marlene states "I learned I wanted to work with teens in an engaging way so I could make a difference in their lives." Marlene has certainly made an impact on youth here at BGCMC and mentions she's not done growing! We can't wait to see the different ways she thrives. Congratulations, Marlene!
"Marlene has taught me to be a strong woman. She's an amazing boss, mother, friend, wife, and overall person. I see Marlene as a cool aunt and still do. I wouldn't have been able to get through so many of my tough times without her." – Tiana, Education Impact Lead