ACTIVITY:
Club LAIR:
What are the differences between a reptile and an amphibian? –  Write or draw major differences you see between a reptile and an amphibian after watching the video.
Vocab to know:
Amphibian
Environment
Pollution
Hyrdological:
What is the water cycle?
Using the video try and answer the following questions:
Water in the water cycle is always __________(fill in the blank)

Give some examples of precipitation.

How does water at room temperature become vapor?
LINK:
Club LAIR Video:
Eyewitness Amphibian Video: CLICK HERE
Hydrological Video:
Bill Nye the Science Guy: CLICK HERE
ACTIVITY:
Take it slow with some Yoga
ACTIVITY:
Watercolor Creations:
Learn some watercolor basics: Push, Pull & Poke
Supplies
Watercolors

Watercolor paper

Brushes

Water
Ms. Marissa's Challenge: Draw an accurate city landscape with…
A ruler

Paper

Markers, colored pencils OR crayons
ACTIVITY:
Engineering Challenge:
Build a Rube Goldberg Machine
Rube Goldberg Machine –
A series of chain reactions that make a simple task fun, difficult and humorous.
Watch the Ok Go Music video to see an example of a very elaborate Rube Goldberg Machine

See if you (and your family) can build a simple version of one
ACTIVITY:
Scratch- Use Arrow Keys
Click this link to sign in to Scratch

Click the Create

Click Tutorials-follow the Use Arrow Keys tutorial

Leave a comment on Ms. Amanda's Arrow Key Project and let me know if this was easy or challenging for you.(click the donut for a special message)
LINK: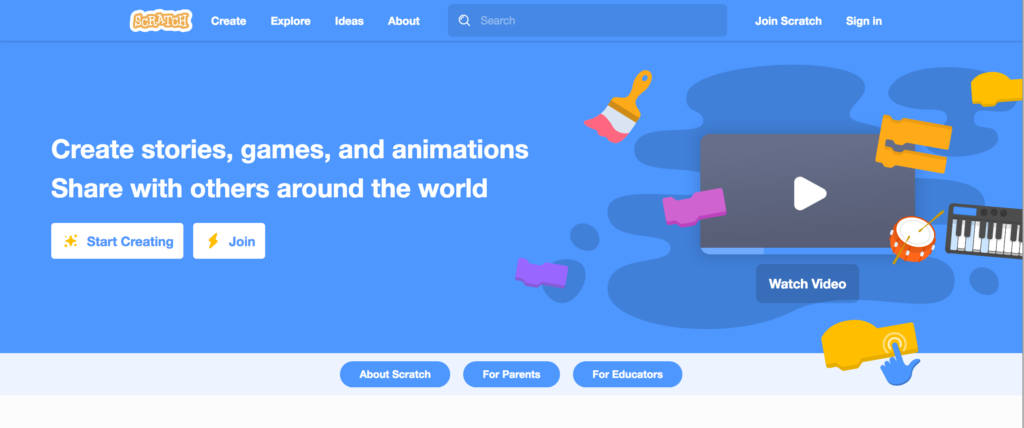 Our Studio: CLICK HERE
Create your own Arrow Keys project, save and share it to our studio.
ACTIVITY:
Take a look at this Live Cam at the Aquarium of the Pacific
See anything interesting in the tropical reef?

Do we have any of these corals or fish in our tank at the Clubhouse?
LINK:
Aquarium of the Pacific – Tropical Reef Aquarium: CLICK HERE
ACTIVITY:
Take a break and play a game of chess, online against the computer or with your family. Watch this short video to learn about the game and some of the pieces.
With this online platform change the level of difficulty of the computer and learn the game
Make sure to check with your parents before going online
LINK:
Chess for Kids Tutorial Video: CLICK HERE
Play Chess Online: CLICK HERE
Mr. Eddie's DIY Chess Board Read to the end for a special challenge: CLICK HERE
ACTIVITY:
Draw a picture of what you've done today. Write a sentence about why you enjoyed doing this activity today.