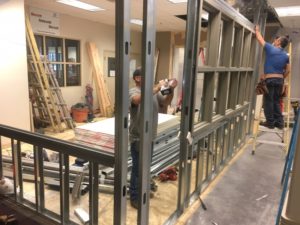 Thanks to our community's amazing support, work has begun on renovations to the Teen Center at the Salinas Clubhouse, creating a larger, modern, flexible space to serve our teen members.
The updates include a new Teen Lounge, new flooring, a technology "café," and a more open-concept layout. Construction crews designed a room divider and framing began on a new wall. Window frames were hung and a new double-door frame was installed. The project is expected to be completed March 1.
Attention is now focused on the Seaside Clubhouse Teen Center, which will create 1,700 square feet of space with a separate entrance just for teen members. The Clubs received a $300,000 matching grant from the Monterey Peninsula Foundation, host of the AT&T Pebble Beach Pro-Am, and currently need $85,000 to meet the goal and start the expansion.
Currently, both Clubhouses serve an average of 150 middle and high school students a day and more space is needed to accommodate a growing membership. The renovations will allow them to serve 225 teens a day, with a focus on preparing them for college and career success.
"I'll definitely be coming to the new Teen Center and can't wait to see it open!" said Club Member Litzi P.
For more information or to discuss funding opportunities, please contact development@bgcmc.org or call (831) 394-5171.