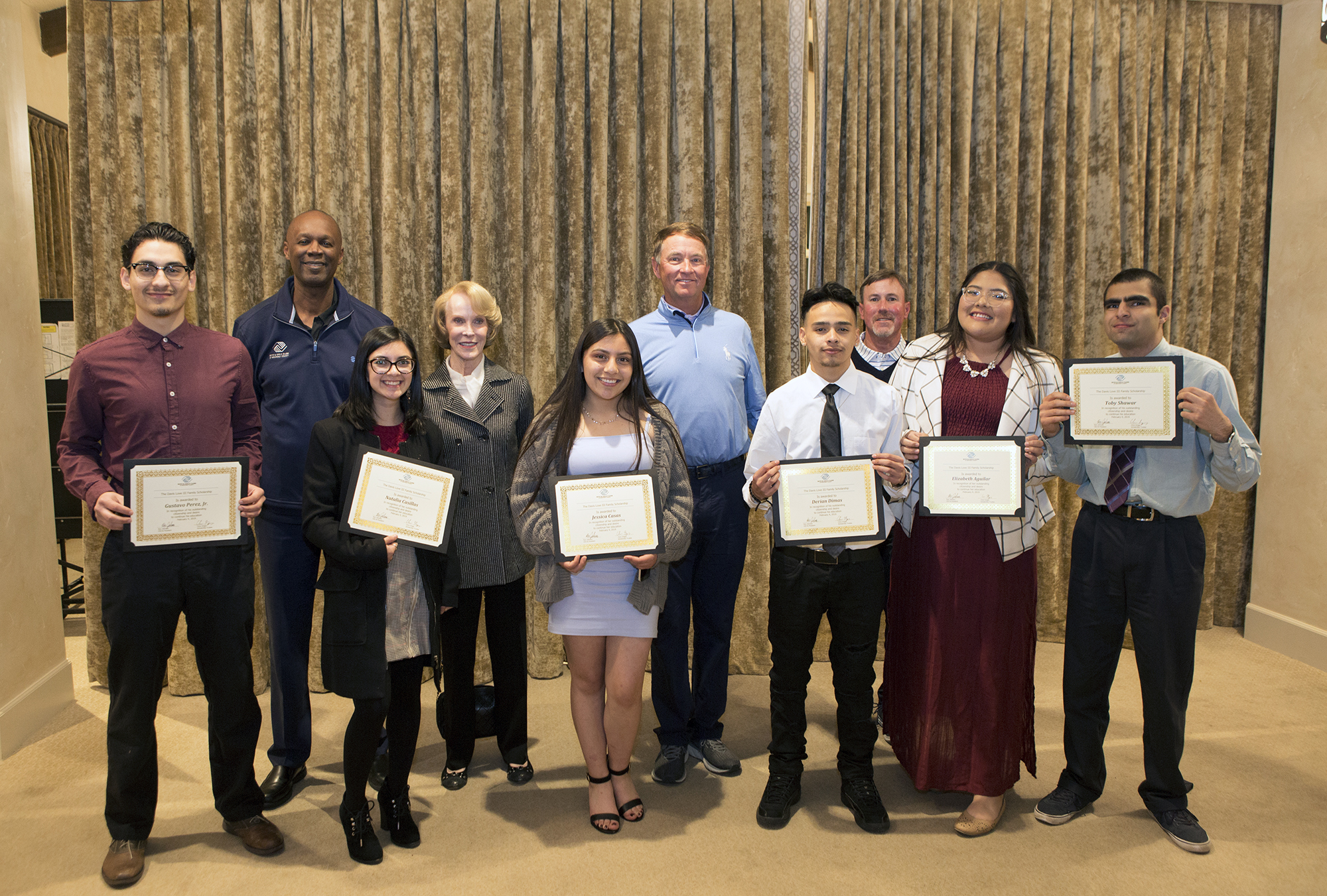 Courtesy photo/Recipients from left to right are Gustavo P., BGCMC President and CEO Ron Johnson, Natalia C., Gail Griggs, Jessica C., Davis Love III, Derian D., Chris Griggs, Elizabeth A., and Toby S. Not pictured is recipient Kristian G.
(SEASIDE, Calif.) – Seven Monterey County teens were awarded with $5,000 for college thanks to the Davis Love III Family Scholarship funded by proceeds from the Boys & Girls Clubs of Monterey County's (BGCMC) Annual Golf for Kids Pro-Am Tournament, hosted at the Monterey Peninsula Country Club.
Scholarships were awarded during a dinner following the tournament. Seaside and Salinas teens Elizabeth A., Jessica C., Natalia C., Derian D., Kristian G., Gustavo P., and Ayoub "Toby" S. were each awarded a $5,000 college scholarships.
Founded by Jim Griggs in 1988, the Golf for Kids Pro-Am Tournament has played a vital role in supporting the success of thousands of youth in Monterey County. This year's event raised more than $290,000 for the Clubs, bringing the total raised since the tournament's founding to more than $5.4 million, which includes $289,000 in college scholarships awarded to 52 local teens.
For more information on the Clubs, visit them online at bgcmc.org.
About Boys & Girls Clubs of Monterey County
The Boys & Girls Clubs of Monterey County (BGCMC) has played an integral role in the community for over 50 years. BGCMC operates Clubhouses in Seaside and Salinas, providing a safe haven for over 500 children and teens a day with programs that focus on Academic Success, Healthy Lifestyles, and Good Character & Leadership. Club members are offered mentoring and guidance to maintain on-grade school progression, graduate from high school, and prepare for college and careers. Over 80% of the total budget comes from generous individuals, corporations and foundations. The Clubs are open weekdays from 12 p.m. to 6 p.m. when school is in session and weekdays from 8 a.m. to 6 p.m. during spring, summer, and fall breaks. Additional information is available at www.bgcmc.org or via phone at 831-394-5171.