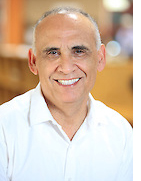 You can take the word interim out of his title. José Morán was named this month as the permanent Director for the Salinas Clubhouse of The Boys & Girls Clubs of Monterey County (BGCMC), a facility that serves more than 340 members a day.
Morán accepted the interim position last April. He has been with the Clubs for the last 12 years in a variety of leadership and program roles, most recently as Director of Community Relations.
"I am looking forward to continuing to serve our members and their families, and collaborating with our community partners to make our communities a safe place, especially for youth." Morán said.
Besides his work at the Club, Morán is a member of the Salinas Alisal Rotary and serves on the steering committee for the Latino Network for Monterey County. He is a published poet, songwriter and performer. His prior professional experience includes his time as Executive Director of the California Parent Institute in San Jose and Clubhouse Director of the Treasure Island Boys & Girls Clubs of San Francisco.
He can be reached at jmoran@bgcmc.org or (831) 394-5171, ext. 234.

About Boys & Girls Clubs of Monterey County
The Boys & Girls Clubs of Monterey County (BGCMC) has played an integral role in the community for over 50 years. BGCMC operates Clubhouses in Seaside and Salinas, providing a safe haven for over 600 children and teens a day with programs that focus on Academic Success, Healthy Lifestyles, Good Character & Leadership. Club members are offered mentoring and guidance to maintain on-grade school progression, graduate from high school, and prepare for college and careers. Nearly 90% of the total budget comes from generous individuals, corporations and foundations. The Clubs are open Monday through Friday, 8 a.m. – 6 p.m. during summer and school breaks, and from 12 p.m. to 6 p.m. when school is in session.  Additional information is available at www.bgcmc.org or via phone at 831-394-5171.