Join us on Saturday, January 23, 2021
"Sunset Lake" Acrylic Painting
We invite you to join Boys & Girls Clubs of Monterey County's very own artist, Jonathan Lupisan, for a Virtual Paint Night to support the Boys & Girls Clubs of Monterey County! Grab your friends and family for this fun and interactive event while you paint your own rendition of "Sunset Lake."
Your donation or sponsorship to participate in our Virtual Art Event provides funds to support Boys & Girls Clubs of Monterey County's Marti Mulford Art Exhibit in January 2021. Each donor will receive
$25 – Sponsors 1 Member's Entry into the Marti Mulford Art Exhibit. Donor receives 1 link to the Virtual Paint Night
$100 – Provides Art Supplies for 2 Members. Donor receives 2 links to the Virtual Paint Night.
$250 – Underwrites One Year of Art Classes for 1 Member. Donor receives 4 links to the Virtual Paint Night.
Become a Host Sponsor
$500 – Enjoy the Virtual Paint Night with 5 of your closest friends while supporting Art Classes for 2 Members for the year! Donor will receive 6 links to the Virtual Paint Night.
Attendees are encouraged to purchase the supplies and materials needed for this paint night using the links below:
Acrylic paint  Brush set  9"x12" canvas
*Optional* Palette  Palette Knife  Brush Cleaner
Register
With your donation, you will receive access to the virtual event link via email.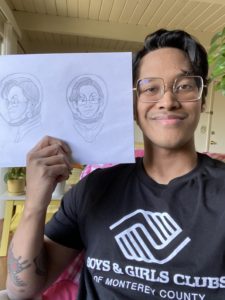 Jonathan received a B.A. Art Concentration in Studio Practice, Photography Emphasis from San Jose State University. Before becoming a youth developer with BGCMC, he served over seas in the Peace Corps where he used his photography skills as a way to promote environmental and cultural awareness. As a youth growing up in Salinas, Jonathan was a Boys & Girls Club Member, and now he has come full circle as an employee specializing in helping Members to find their artistic voice.